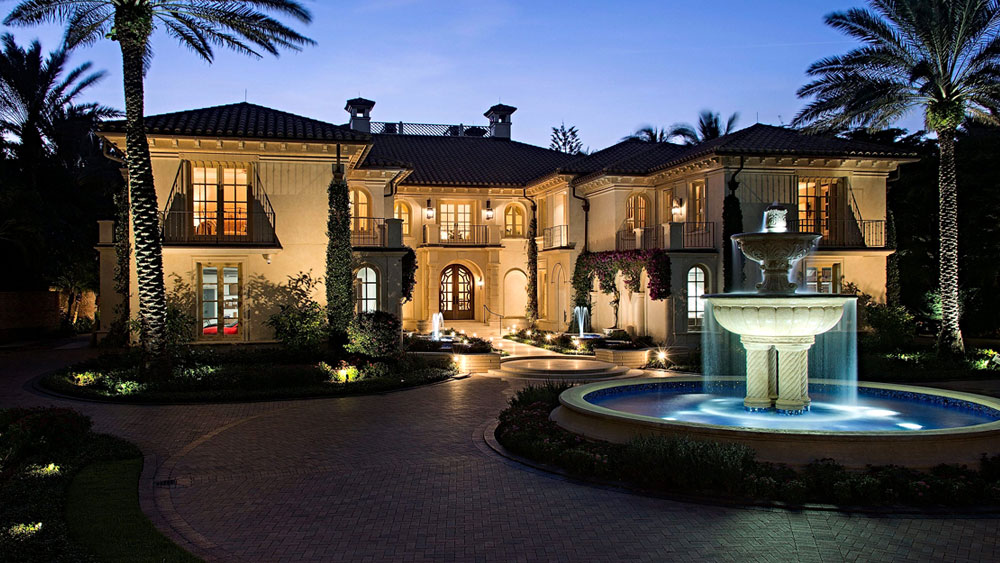 Image Credit: John R. Wood
Exterior Lights Make All The Difference
Lighting The Exterior
This is post 2 of 4 in the series
Grand Entrances
May 13, 2020
From path lighting to porch sconces, you have an almost endless array of options to illuminate the exterior of your home. You can highlight your amazing landscape with spot and up-lighting, lead your guests to your front porch with elegant path lights, and find the perfect outdoor chandelier to accent the entryway. There are so many ways to enhance the look of the entrance of your home that extend beyond just a new front door.
Like following the yellow brick road, providing lighting that gracefully and safely leads to your front entrance is an often overlooked opportunity to enhance curb appeal. Equally, if not more important, the exterior lighting at your front entrance provides a subconscious goal along the path that offers an inviting visual to you and your guests. From materials, to styles, to power sources and placement, we have a vast number of options to explore. Let's dive in.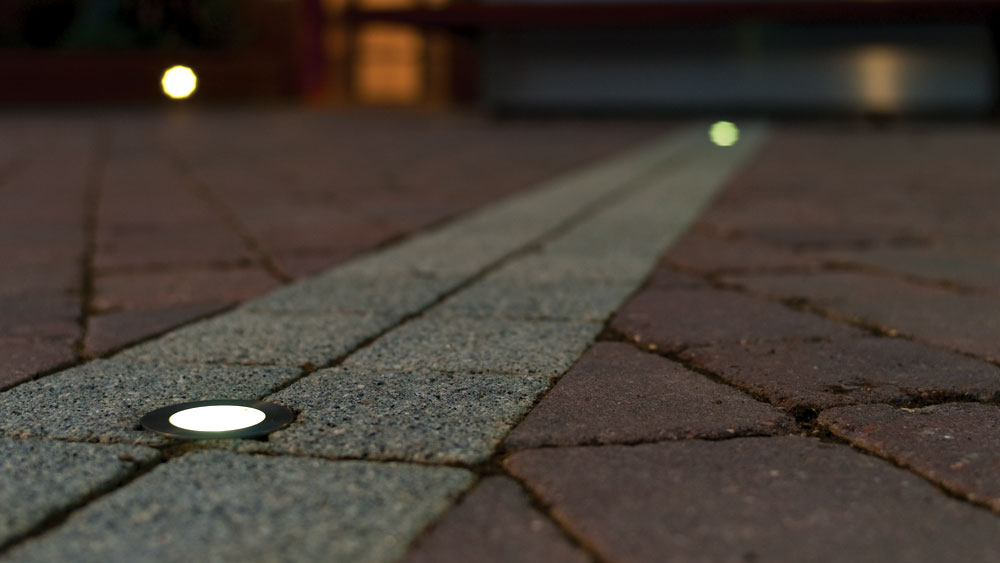 Image Credit: WAC Lighting
Path Lighting
I'm not even going to try to hide how much I love path lighting. There are lights to match any style of home and power sources to accommodate a variety of installations, especially along the driveway. The WAC Lighting Slim Recessed Luminaire (pictured above) is one of my favorite touches to put into newly built homes. They are available in low voltage or 120V, a variety of sizes round or square, rated to be continuously submerged in water, and the finish can be customized if you're ordering enough of them. These paver lights are rated to last more than 70,000 hours. There's even an available pour kit so your contractors don't have to worry if their concrete molds will be exactly the right size. For those with brick or stone driveways, paver lights fit seamlessly into the pattern of your flatwork as not to interrupt the continuity.
No more wandering off the edges of the driveway on a rainy evening. Running these lights up a driveway provides a modern, high-end feel to a home that draws your eye to the focal point of the property - your front entrance!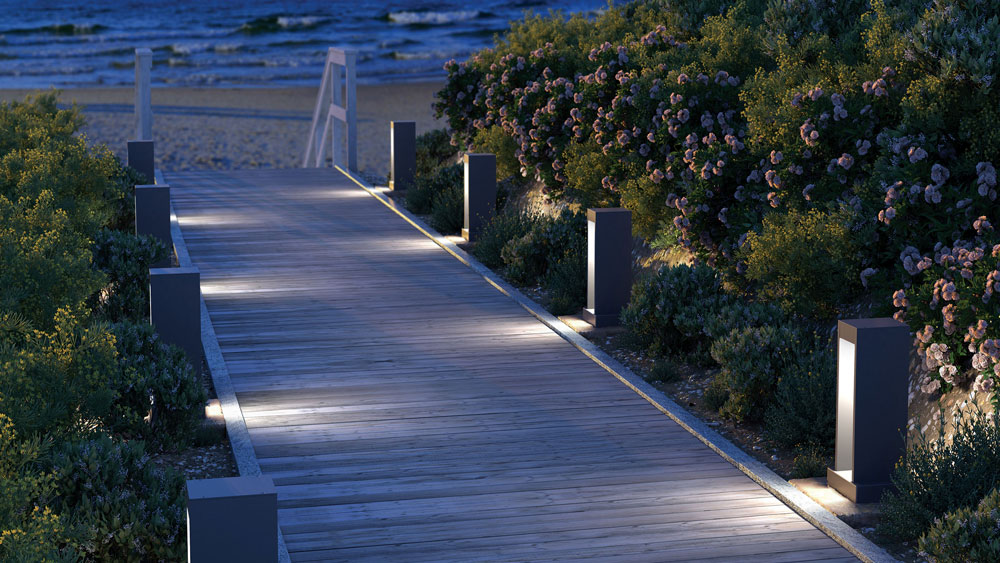 Image Credit: Tech Lighting
Continuing the recessed lights from your driveway along the walkway to your front entrance would extend the continuity of your lighting scheme, but here you have the chance add more character to your property with illuminated bollards, like the Syntra from Tech Lighting (pictured above). Contemporary bollard designs highlight the clean lines of the home and landscape and provide a warmer color temperature to avoid the feeling of a commercial environment. A more traditional low post lantern like the Harbor Path Light from Hinkley Lighting (pictured below), sheds the modern aesthetic in favor of a design that would complement timeless architecture, from Tudors to Craftsman. If you can dream of a style, there is a lighted bollard out there for you.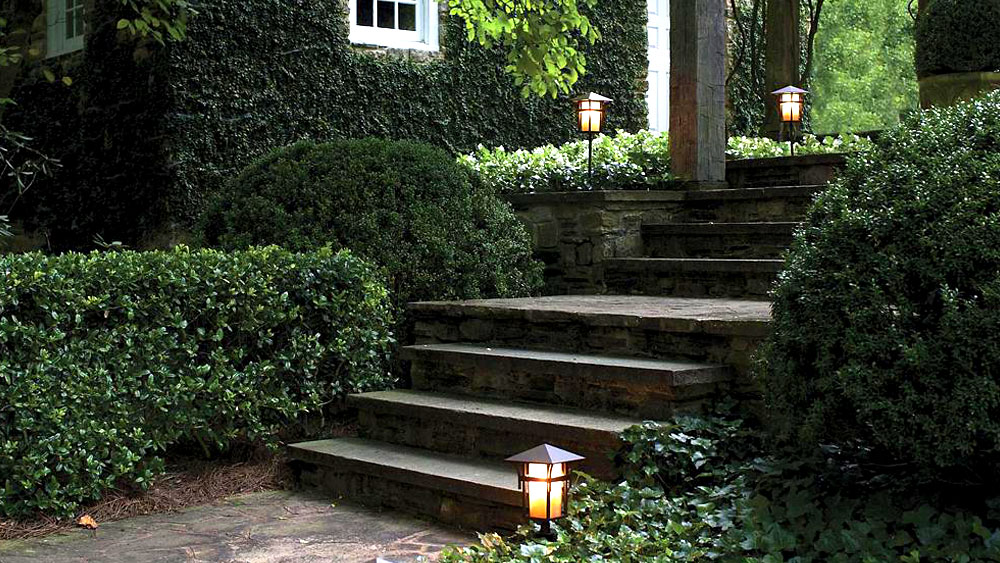 Image Credit: Hinkley Lighting
Landscape Lighting
I won't get into an entire lighting design for your landscape or we would be here all day. Rather, I will highlight those lights that will accentuate the entrance of your home. I'm a big fan of up-lighting, silhouetting, wall-washing, and shadowing the front landscaping and face of a house. It can be done gracefully and with minimal hassle and power consumption, or it can look like you can't get rid of the carnival that set up camp on your front lawn. We'll look at how to achieve the former and avoid the latter.
Generally speaking, if you are building a new house, or installing a completely new landscape design, I would recommend wired LEDs. They are going to have a longer life and you have more options in terms of style, function, and color temperature compared to solar powered lights. For a retrofit, you're going to have to weigh whether or not running electrical under your driveway, just so you can light that cypress tree, is worth the price tag and headaches. You may find you want to save those grey hairs for another day and check out solar powered lighting.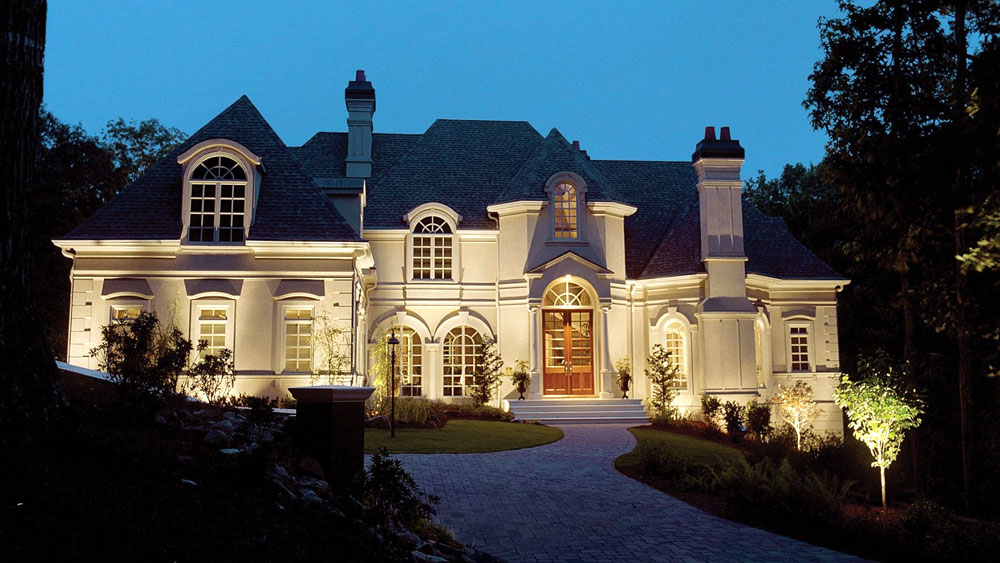 Using wall-wash lights, like the 120V Wall Wash from WAC Lighting (pictured above), provides an even glow to a vertical surface. Put these lights close to the house, behind the landscaping elements, to create a silhouette effect. Placing these consecutively along the exterior face of the house can provide an evenly lit facade, making the house glow as a whole.
If you are look to highlight certain areas, up-lighting with spot lights is your friend. You can place the lights under trees, to accent a particular tree, or behind more dense vegetation to create a silhouetting effect. Silhouetting can be achieved by placing the spot behind the landscape, shining up onto the wall of the house, allowing the plant to create a shadow.
Up-lighting can be the ultimate way to draw attention to your house. However, if you fail to take lumens and placement into account, improperly placed spot lights can leave your house looking like the entrance to the Haunted Mansion. Have you ever held a flashlight up to your chin in a dark room to scare someone? Yeah, well that's what happening with the house below, and it's working.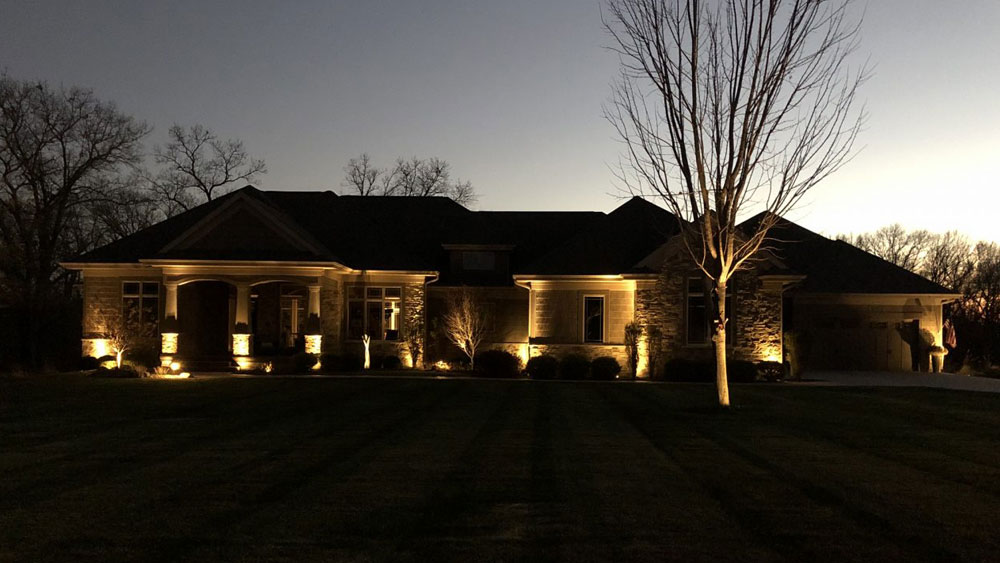 Image Credit: Cedar Rapids Landscape Lighting
Front Porch
And now, the main event - illuminating the front porch. Remember, although it is the front porch, it balances the entire lighting scheme from the street. Depending on the configuration of your porch, you may want to opt for overhead light from a chandelier or recessed lights. If that outdoor chandelier is calling to you, recessed lights would probably be overkill. Having a large, decorative chandelier on the interior of your house in your foyer means an additional chandelier on the exterior could lead to confusing light patterns, diminishing the overall visual impact. In this case, recessed lights or sconces, (or both), may be a better choice. There is no need to light up your front porch like a surgical gallery, that is unless you enjoy endless swarms of insects.
Recessed lights should be chosen to provide adequate illumination to the ground in front of your front door, as well as the remainder of your front porch. Don't go so bright that it lights up the surrounding area, but do allow for someone to clearly see a scary spider on the door handle at night. The height of your ceiling and size of the lights will play into the necessary lumens to achieve this.
Chandeliers should always be rated for exterior installation, and adequately supported to handle wind shear. Consider mounting the chandelier with metal conduit, especially in windy areas. In the mood for something super swanky? Check out the Drylight LED Outdoor Chandelier by Masiero (pictured below). The Italian designers at Masiero submerged this beauty in a water tank to demonstrate its resiliency to rain. And if this isn't fancy enough, they have a 2-tier, 24-light option that will knock your socks off.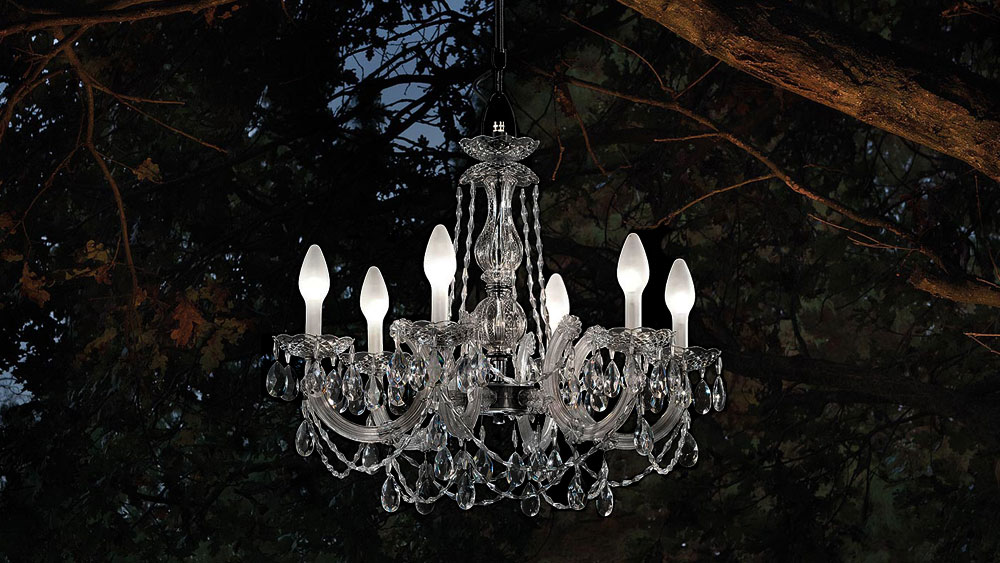 Since there is slim chance you are reading this from the porch of a light-starved Italian villa, you may want to explore something on the more modern end of the spectrum. For instance, the Carson outdoor chandelier from Hinkley Lighting (pictured below) exemplifies industrial meets modern. Hinkley makes a quality product. I love that it comes with coordinated metal down rods and a 2 year warranty. I can envision this light in a multitude of entryways of varying style.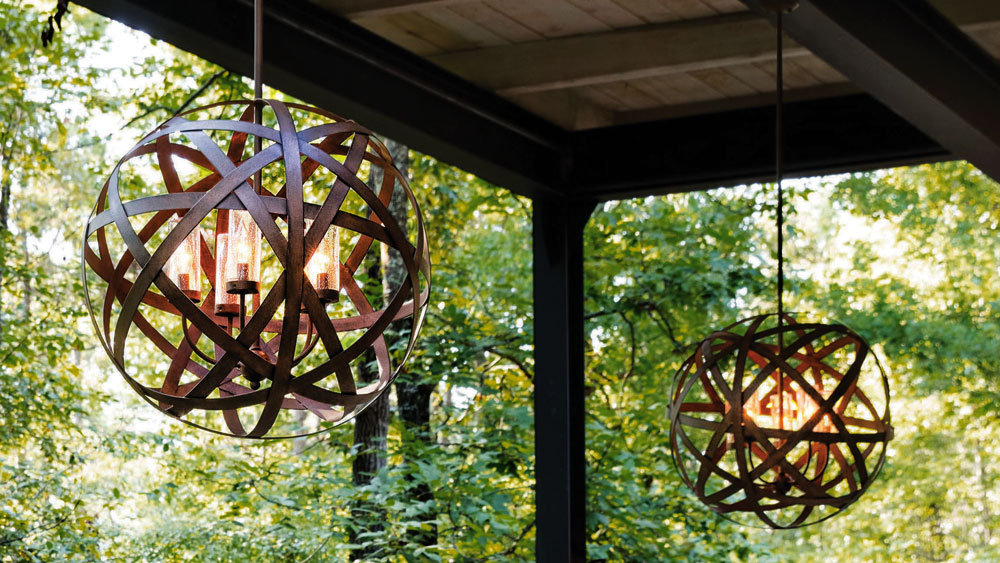 Image Credit: Hinkley Lighting
A few things to keep in mind when you're shopping for the various light fixtures such as those mentioned above:
Be aware of the color temperature of each fixture. Randomly mixing color temperatures may end up looking like a mess.
Different manufacturers have different specifications for finish colors, so they may not all match.
Layer lighting like you would in your living room. If all of the exterior lights point 2 feet off the ground, you'll have a nice view of everyone's ankles, but it won't do much for the presentation of your house.
Balance form and function. Your lights are there for safety purposes, but that doesn't mean they shouldn't be beautiful as well.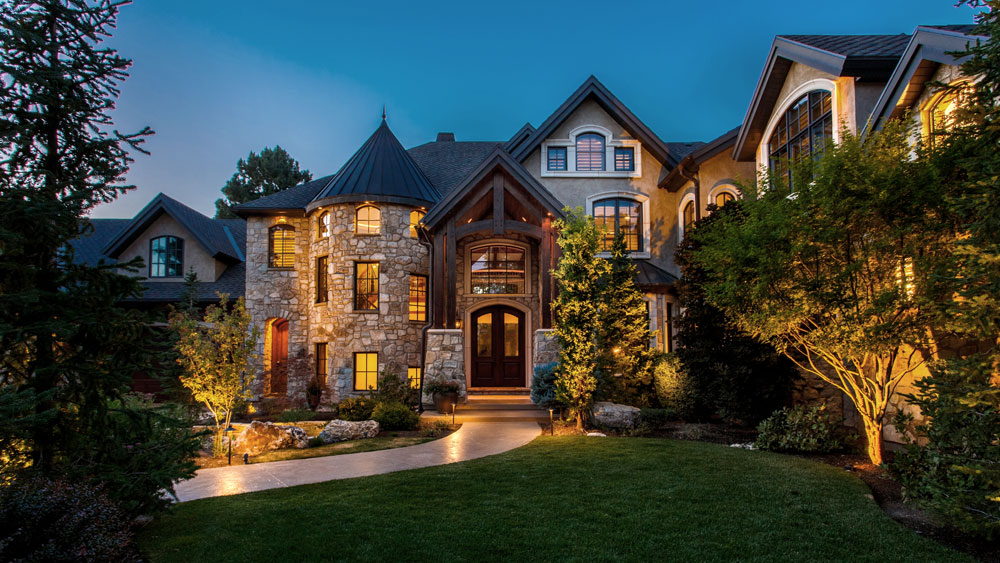 Image Credit: Utah Lights
Regardless of the light fixtures you buy, layouts you devise, and finishes you decide would be best, always remember that layering your outdoor lighting is key. Much like the interior of your home, providing light sources that illuminate different elevations of the exterior space gives a more balanced and well thought out finished look to your front entrance. So go ahead, hang that amazing chandelier, but don't forget the path lighting while you're at it.