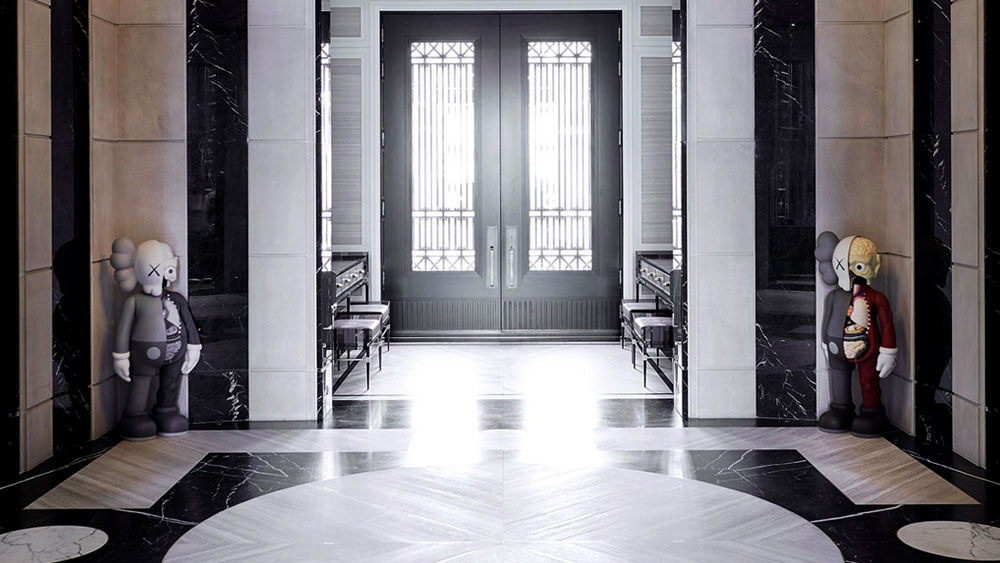 Image Credit: Architectural Digest
The Foyer Floor - Function and Style
Stylish Foyer Flooring
This is post 3 of 4 in the series
Grand Entrances
May 15, 2020
So far in this series we've explored some ideas on how to maximize the impact of the entrance of your home from the exterior. Now we'll make our way indoors. Passing through the front door of someone's home is the gateway to the intimate setting of their life. Each element - the flooring, the lighting, the furniture - has been placed without restriction from the world outside those walls. Here, in the comfort and security of your house, you can shed the weight of HOA-compliant color schemes and really focus on your personal style. The first thing you engage with as you take a step inside is the floor, which leads us to a natural place to start.
Interior flooring options are boundless, but the flooring in your foyer should be focused equally on function and style. Limiting the flooring materials to durable, hard surfaces allows for easy cleaning, longevity, and safety. I have been in too many houses that throw you from the exterior concrete of the front porch straight onto a carpeted surface. This either leads to an unsanitary, and often worn in, area compared to the rest of the house, or throw rugs galore. Both options should be taken out back and burned immediately. If you are concerned about slipping on potentially wet sections of the floor, area rugs are great tool, as they can provide visual interest, and are easily removed for cleaning.
Before we dive too deep, I want to address a concern I have heard expressed by many clients looking to build new homes. During the process, builders will present a book of tile, or hardwood available to the client at no additional cost. These products also happen to pad the builder's margin quite nicely, and are generally of sub-standard quality. The problem is that this is restrictive for the client, and thus clients often explore having cheap, temporary carpet put in, and hiring a specialized flooring installer after the house is complete. I would advise against this. First off, installing carpet onto the slab of your home requires tack strips to be anchored to your slab. That means your brand new slab is going to be full of holes before you move in. When the tile installer comes around, he is going to have to ensure all of those holes are filled to prevent air gaps. This is not a good way to make friends.
Rather than create an extra headache, pay for something you don't want or need, and create a bunch of unnecessary garbage in a landfill, request the builder simply leave the slab raw. Do NOT let the builder install the base molding in these areas. You don't know the exact height of the finished floor and could end up with gaps, or worse yet, baseboards that have to be trimmed across the bottom because they are below the floor level. Baseboards should be installed AFTER the flooring install is complete.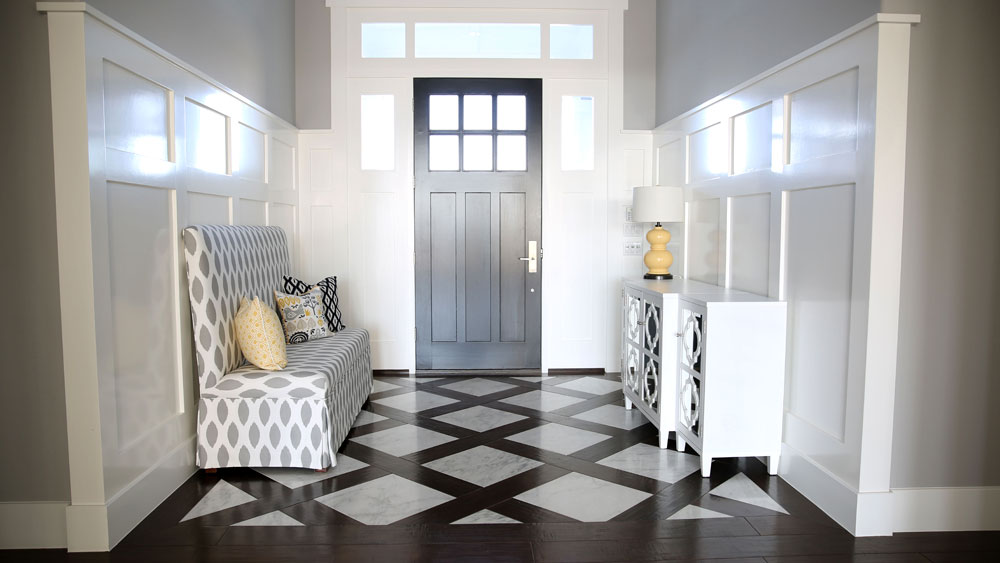 Image Credit: thesunnysideupblog.com
Moving on. The flooring in the foyer is an opportunity to add patterns, different materials, and inject a bit of pizazz into the entryway. I lean towards tile in this area, or even a mixture of wood with tile inlays. A quality tile, (porcelain is my favorite), is more durable against moisture damage, impact markings, and offers more longevity overall when compared to wood. Note the quality descriptor in that last sentence. If you buy $1.00 tile, you are going to get $1.00 quality. A high price doesn't always mean high quality, but there's a reason people referring to inexpensive materials as "builder grade" is not a compliment.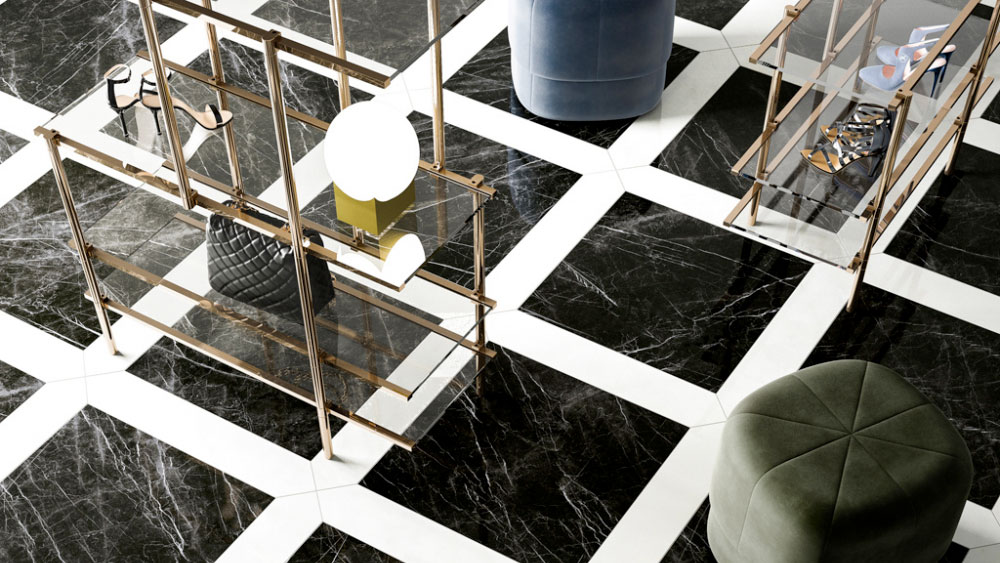 Image Credit: Refin Ceramiche
The entryway is a great place to incorporate different colors or textures to create patterns that highlight the space and show off some unique style. Keep the pattern contained and unique to the foyer or main walkways. Especially in open floor plans, this will serve as a visual divider for areas without putting up walls or placing furniture as a barrier. Creating pattern in tile is easier with a strong porcelain tile. It's harder for your tile setter to cut, but will require less overage since there will be fewer breaks and cracks. My porcelain tile preference is Refin Ceramiche, makers of Italian porcelain, and based in Italy. Not only are they a great company, but unlike so many others we have tried over the years, when the boxes of their product are delivered, you will find virtually no broken tiles, cracked or chipped corners, or anything other than the beautiful product you ordered. Their products never fail to impress our clients, and I even have their tile installed throughout my entire first floor.
If a uniform look is more your style, look for subtle yet stylish flooring materials, like cement or large format tiles. Cement floors have a bit more maintenance and upkeep to ensure they always look their best, but more on that in a moment. Running the same flooring from your front door throughout the house can make the space appear larger, but bear in mind the follow story. I was listening to a radio interview about how an architect, in an attempt to create open space in a public library, moved the reception desk off to the side of a large room. The desk had previously stood between the front entrance and the main depository. Without this visual marker, people entering and exiting the library started to bump into one another. Their subconscious couldn't figure out what to do with all that space. To combat this potential issue, consider a centrally placed area rug to give a visual cue of where your guests are standing, and where they should stop to be greeted. Or conduct your own social experiments by moving the area rug to various sections of the entryway. Dollars to doughnuts, people will gravitate toward the rug.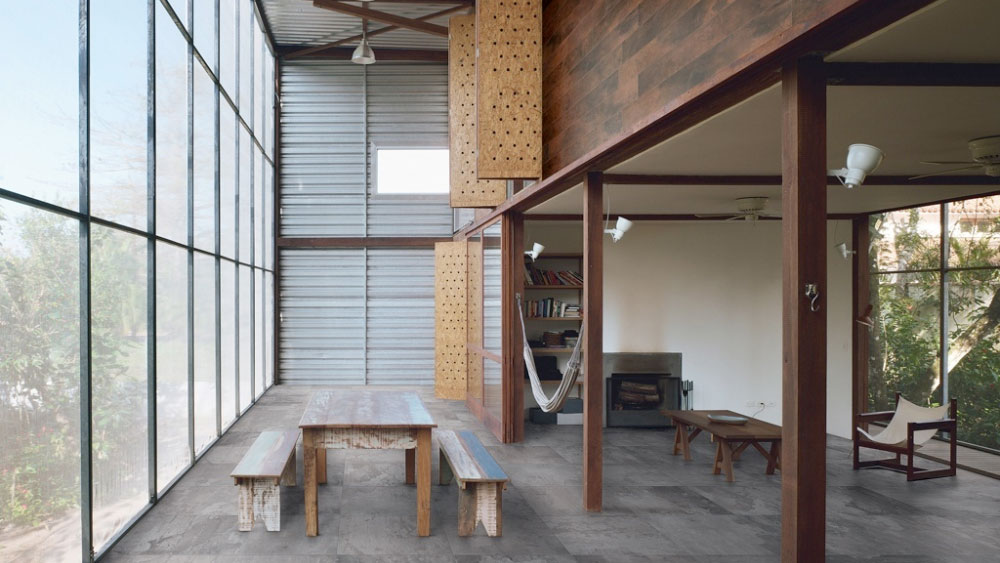 Image Credit: Refin Ceramiche
Speaking of consistently applied flooring, cement floors have been a trend for years now, and it appears people will continue to strive for this look for at least a few more. However, stained or even raw cement floors have their drawbacks. If you are staining a brand new poured in place slab, you will need to maintain the top coat finish. This could mean buffing your floors, constant top coat touch ups with lengthy dry times, etc. in order to keep your floors looking new. Likewise, if you are considering allowing a cement finisher to pour a leveling coat, usually at around 1/8", be prepared for that to last a few years at best. These surfaces are known to crack and splinter over time, and it is never something I would recommend to a client. So, cement floors? No thanks, we can do better.
A good alternative to achieve that stained concrete or cement look, but not the maintenance, is a cement-look porcelain tile. These tiles from Refin's Design Industry line (pictured above) are the spitting image of the real thing (and they feel like it too). They will last decades longer than a cement overlay or polish, and come in a variety of finishes and textures you can only pray to get when hiring a cement finisher.
Keeping on the theme of a single type of floor covering throughout, a perfect addition to traditional and modern homes (or a small palace), is an onyx-look porcelain tile, like the Prestigio Onyx (pictured below). If the shine is a little over the top for you, explore a matte finish. You don't have to ask guests to take off their stilettos for fear of impact marks on this tile. It has both beauty and brawn. A bright flooring like onyx also opens the door (no pun intended) to accents with deeper hues, like jewel tone artwork, or dark wood furniture.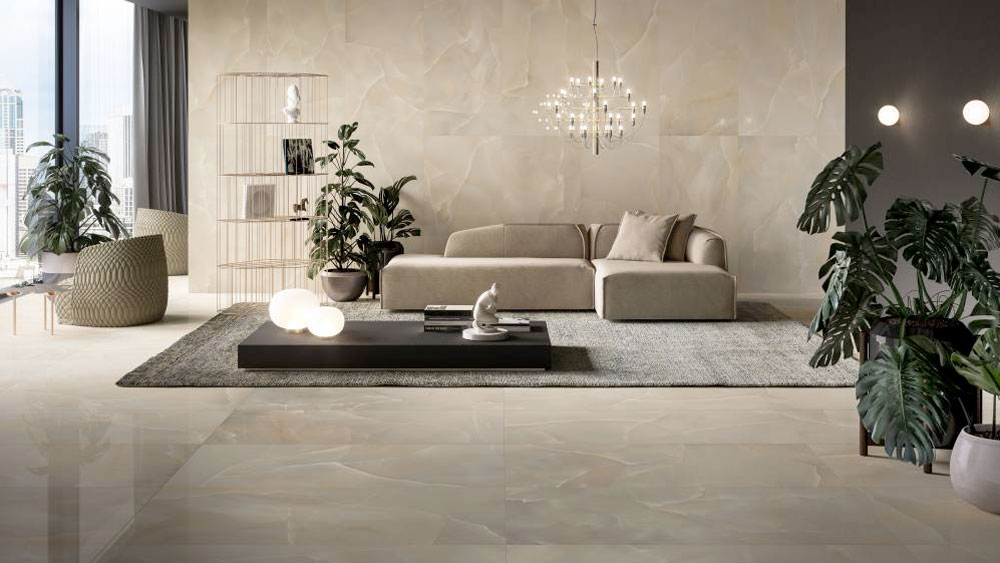 Image Credit: Refin Ceramiche
I've focused on tile thus far, but let's move on to wood. I happen to believe that hardwood floors have a place in every home. They are simple to care for, look warm and inviting, and fit any architectural style. I had hardwood floors that were approaching their 100th birthday in my last house. Trends in plank lengths, widths, finishes, and types of wood cycle quickly, but the material will never go out of style. Be sure to choose a design or type of wood that will withstand the test of time. If you are in a climate that is humid, or where it snows, keep a careful eye on the high traffic areas like the entryway. Exposure to moisture and street salt can wear down your wood quickly.
I love the idea of wood-look tile, but I don't like the look of most of these tiles when they are installed. They need a creative infusion, and for the love of Pete, no 1/4" grout lines! It reminds me of a hardwood floor so desperately in need of repair that you can store spare change between the boards. Enter the Kasai line. It's hardwood floor, meets shou sugi ban, meets durable tile. It has the feel of charred wood, without the flaking or maintenance, and it's available in 3 hues. This tile is a show stopper.
Image Credit: Refin Ceramiche
Here's the thing, whether you decide to install a custom tile pattern, a floated chevron hardwood, or staple an old bathrobe to the floor, make your flooring choice set the appropriate tone for your home while being durable enough to hide wear and tear for many years to come.
This may come off like a love letter to Refin Ceramiche, and perhaps it is, but it's important to all of us at JCA Design Group that our readers know we only write about products and companies we have used, will use, or admire. Many of the products you read about me swooning over have been used in our office, home, or client projects. We do not solicit or accept compensation in exchange for articles. It's just cool stuff we love.