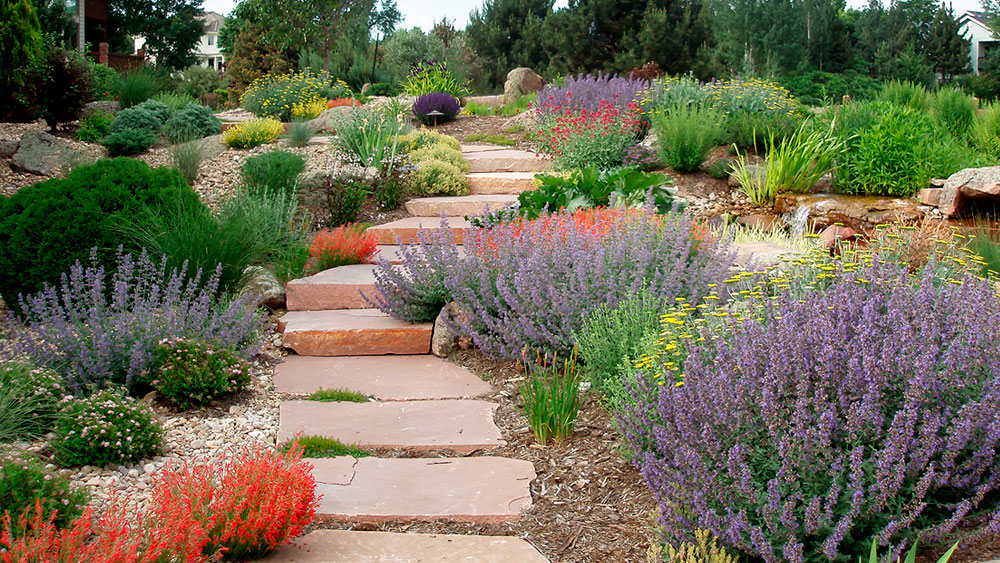 Image Credit: JS Landscape
Planning Your Xeriscaped Dream
Planning Your Xeriscaped Dream
June 05, 2020
Let's face it. Lawn maintenance sucks. The U.S. decided long ago that no matter the climate, acres of green grass should surround our homes and businesses. However, these green lawns are responsible for an estimated one-third of residential water usage, equating to more than 7 million gallons per day. Water is a finite resource we are willingly pouring into the ground (along with a grotesque amount of chemical treatments and additives) in the name of vanity. Encouraging residential and commercial properties to "go green" and incorporate xeriscaping into their landscape is an approach that has picked up a lot of steam in recent years, as water prices rise and people make an effort to reduce or eliminate chemical exposure.
There is a misconception that xeriscaping is a hands-off, carefree landscaping approach. Although it does not require endless mowing, edging, and watering, it definitely needs a lot of planning and proper maintenance. The word "xeriscape" simply refers to a landscape that requires little to no irrigation. This can mean mulch, rocks, low-water usage plants, even grass in certain areas, but it doesn't mean your entire landscape has to consist of this approach. Some of our most beautiful landscapes have married xeriscaping with purposefully placed, climate appropriate grass turf. However you slice this pizza, planning and maintenance are key to its' (and your) success.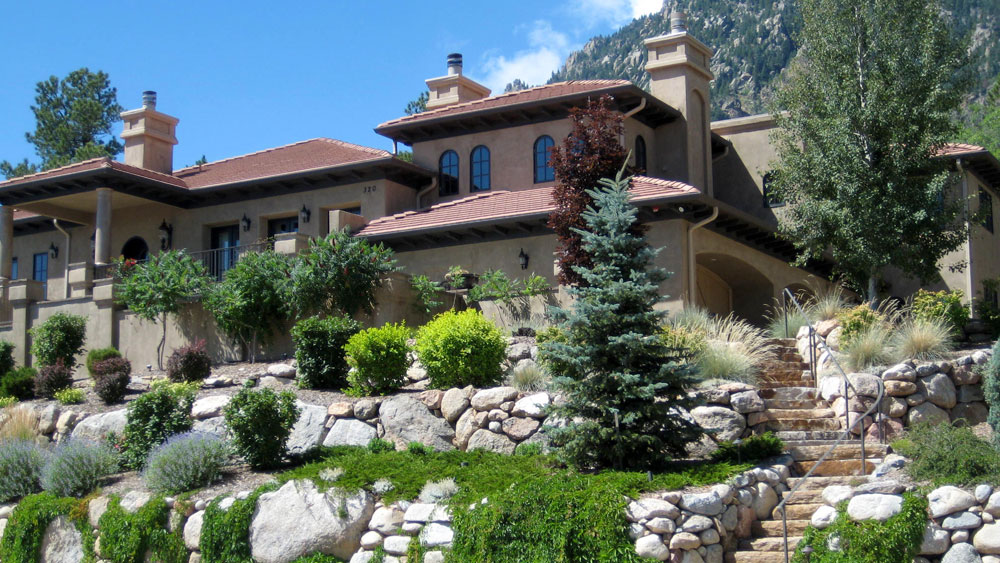 Image Credit: Fredell Enterprises, Inc.
Xeriscaping isn't just for arid parts of the country. In fact, Denver Water, the oldest public water utility in Denver, coined the "Seven Principles of Xeriscaping" to encourage residents in the community to save water through a new approach to landscaping. Artfully and simply laid out, these principles are:
Planning and Design
Soil Improvements
Efficient Irrigation
Plant Zones (Low Water-Use Plants)
Mulches
Turf Alternatives and Practical Uses of Turf
Landscape Maintenance
We'll explore each of the 7 principles, and even a bit more, but here I want to focus on the first. As with any project, proper planning and design can set you up for success. Doing this on the fly is not going to cut it. So let's dig into the planning and design phase.
Once the placement of your new home and flatwork is determined, or your existing improvements have been measured, you will be able to create your base plan of the areas where you would like to add landscaping. This is also where your topographical study comes in handy to determine slopes and water runoff.
Here's a tip - When you are first assessing your new lot, and the surveyor wants to give you a topographical map measuring elevation changes every five or ten feet, insist on one-foot increments with specific locations of any trees and other elements you would like to retain. It makes the process easier for your architect, site prep contractor, and landscape architect. The surveyor may say you're a pain, but it's your land!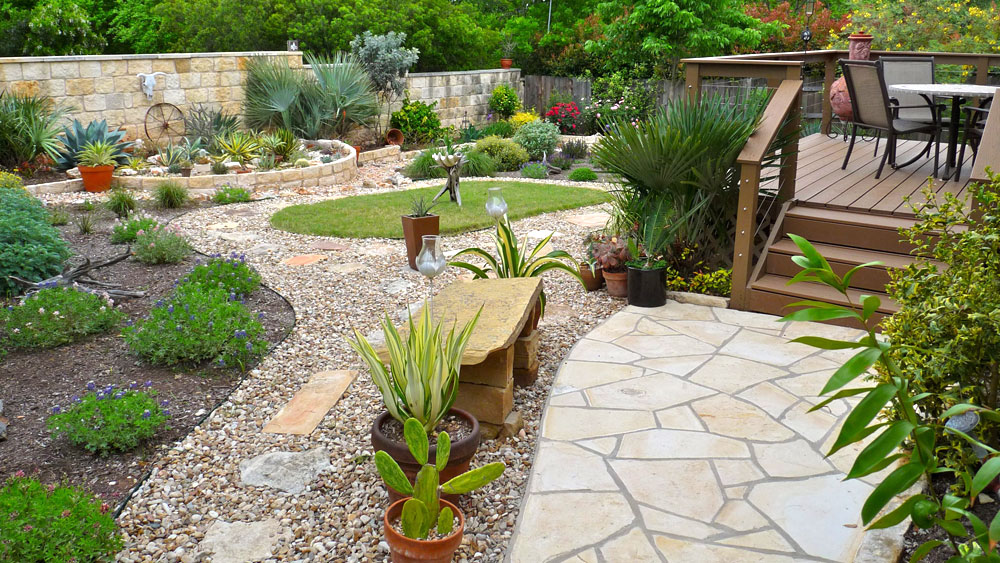 Image Credit: City University Of New York
When you are developing this layout, keep in mind the location of septic, fences, existing trees you'd like to keep, electrical runs, and perhaps most importantly, sun exposure. I like to run sun studies for each residence I'm working on. This not only helps me optimize window placement during the design process, but also tells me where the house, trees, and elevation changes will cast shadows in the yard at any given time of day. This information is invaluable when laying out a landscape design, and allows you to determine where to place full-sun plantings, add trees for shade, and ensure adequate irrigation.
This collection of information gives you the canvas on which you can prepare the ultimate xeriscape plan. Aim for the stars - you can always pare it back to fit your neighborhood or budget. You can being the selection process for water-saving plants, while assessing the visual impacts of the various materials around the yard like mulch, river rocks, boulder placement, and vegetation height. My clients prefer to have 3D renderings of their proposed xeriscape design so they can see what the finished product will look like, while being able to quickly change the color of the rocks and mulch, swap out different plants, or shift the placement of the beds. Imagination is imperative when comes to designing the layout, but being to see it all put together before committing to the design is a huge advantage.
While you are planning, keep in mind that xeriscapes can be succulents and stone, or they can be an incorporation of lush greenery. Your climate, and the water demand of the vegetation, will help to determine the plants that are optimal for your landscape. Incorporating native plantings as much as possible will result in hardier vegetation. If it grows in the wild in your area without the intervention of humans, think of how beautiful it will be with the love and care you can offer! Consider using varying types of mulch, like bark and stone of different sizes and colors. Covering large areas in river rock may look nice, but have the potential to significantly increase surface heat and lack a focal point. We'll get more into mulch selection and the advantages and disadvantages of different mulches in a later article.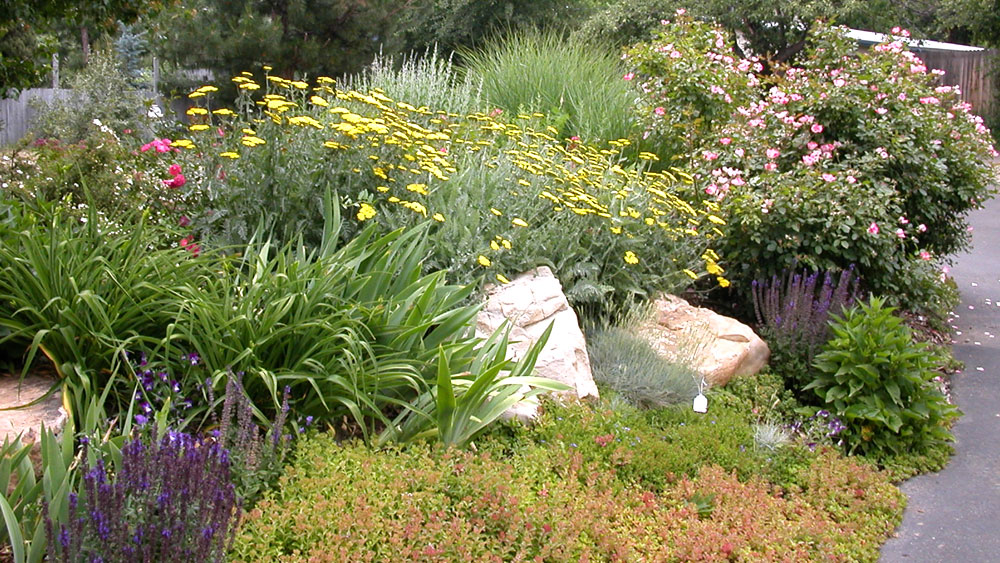 Image Credit: Green Fork Utah
Keep your design somewhat fluid. As we get into the other principles of xeriscaping, you may find the need to alter certain areas. For instance, you may find that certain plants you chose to put near one another have different soil or water requirements that may compromise the health of the other. Having some flexibility about the initial design can greatly improve your finished product.
Your initial investment in a xeriscaped yard can be significantly higher than a traditional flowerbed and turf grass approach, BUT, you are saving in the long term on maintenance, water (in terms of environmental impact and water cost), and reducing pest problems. Setting aside the largest portion of your budget for the infrastructure, like soil amendments, irrigation, and design will give you a good foundation with the flexibility to put in additional plantings and mulches as a future budget phase.
Now go call your surveyor or grab that tape measure. You have some measuring to do.
Next up we'll take at a look at the second principle of xeriscaping: Soil amendments. It's more interesting than it sounds and extremely important for the health and success of your new landscape.